How to Buy European Art: The Art Elements That Add Value to Your Home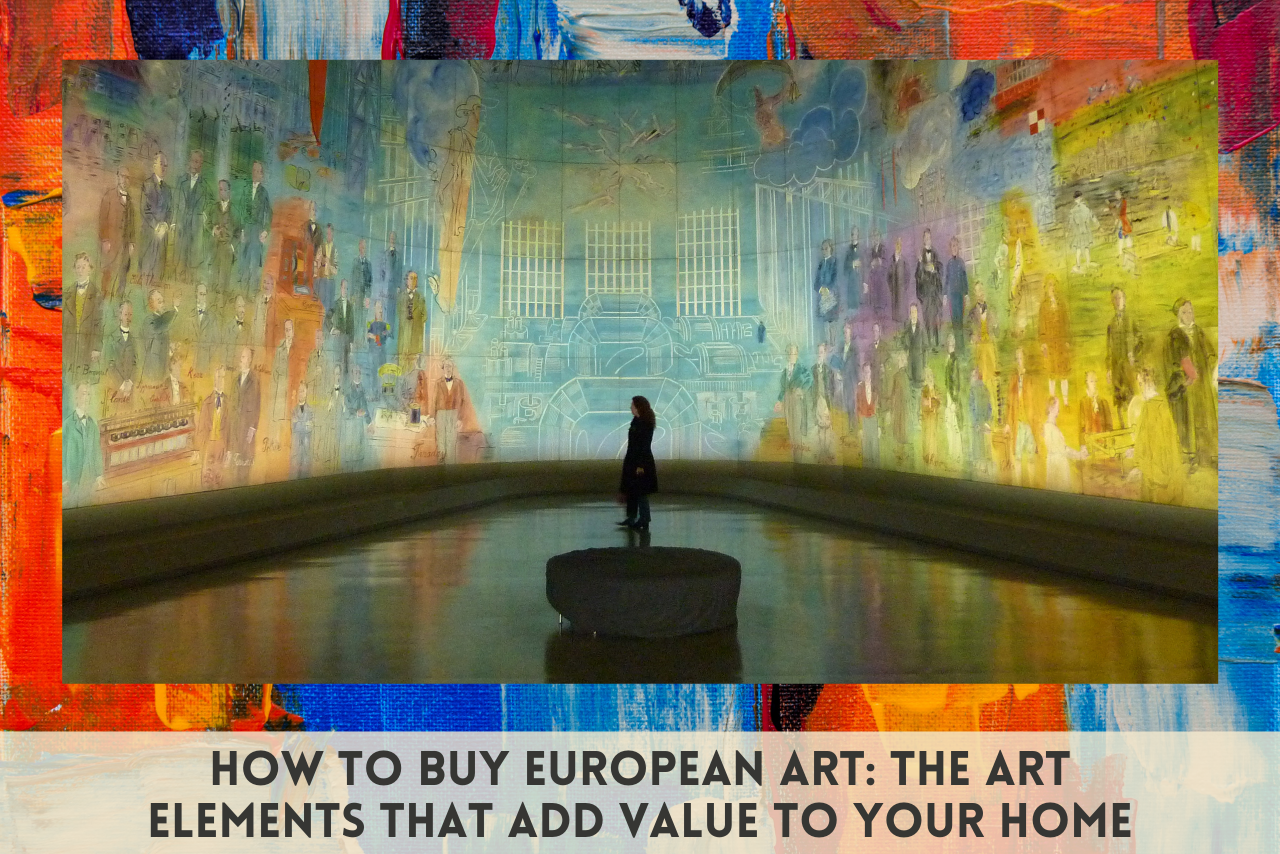 Whether you are after the financial gains to be made by collecting arts or love the artistry stories it tells, we know that buying art has long been a perplexing question among art lovers, connoisseurs, and collectors around the world.
It is often said that European art derives from the diversity of its various styles, influences ranging from ancient to modern art. However, it is also believed that this diversity is represented by a kind of balance. The challenge for anyone who would like to learn the process of buying European art is to identify and appreciate such art elements first.
Where to Find the Perfect Piece for You
Embrace opportunities to see art by visiting art fairs, museums, galleries, and auction houses. One way that you can make sure that you are getting to be that fits into your theme are to visit galleries that display works by local and contemporary artists. Many of these artists sell their work at reasonable prices, and you will get an idea of what pieces would go best with your home's existing decor.
Rule of Thirds
In European art, there are various approaches and methods that artists usually employ to create and present their works. The 'rule of thirds' has long been a basis of design and artwork. When a piece is framed or displayed, the viewer gets the feeling of space and depth. It can often be used to create visual flow from one focal point to another. When people are buying art for the home, they can bring this same principle of unity into their overall theme and environment.
Focal Point
Another useful tip is 'focal point' and is defined as the central point that draws the viewer's eye and holds their attention while other elements of the work are discussed or examined. While there are many different elements of art that make them visually appealing, a focal point is among the most important aspects of art and allows the person to increase the aesthetically pleasing value of their home.
Tone
Tone refers to the overall atmosphere or feels and this is the one that gives the viewer the impression of the work of art. When you look at some old European paintings or sculptures, you will notice that they all have this characteristic. This is very important because it determines how much of the viewer's attention are drawn to the artwork. When choosing art for your home, remember that tone is important because it can be used to great effect as an element of design, depending on where it is used. This is why understanding the tone of European art for your home is so important because you want the finished piece to compliment the space and fit in perfectly.
Style
Style is perhaps the most difficult aspect to master for many artists. Some works have a certain 'aura' that represents the artist's personality and this is something that cannot be copied or reproduced in other works. Some artists have an extremely distinctive style of their own and it is not easy to copy their style. So when you are choosing the art style for your home, you have to make the decision whether or not the style of the painting is one that suits your personality
Subject of Painting
Another important element is the subject or topic of the painting or sculptures. Some works of art are more focused on history or specific subjects, while others are more abstract or general. It refers to the main idea that is translated into visual expression. You should also consider the theme of your home when you are buying art for the home. If you have a contemporary house, then you can go for works that have a modern and minimalist look. On the other hand, if you have a traditional home, then you can get pieces of art that have a rustic and romantic touch.